A less deferential high court
Key decisions of this term show a willingness of some justices to reject political leaders' judgments.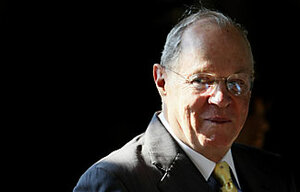 The judiciary is sometimes called the least dangerous branch of government because it supposedly acts with neither force nor will, only judgment.
But the 2007-08 term that just concluded at the US Supreme Court included the spectacle of justices accusing one another of endangering American lives and of staking out a less-than-modest role on the national stage.
In cases dealing with the threats of international terrorism, urban gun violence, and child sexual predators, critics say the Supreme Court appears to be positioning itself more as a player than as an umpire.
In three 5-to-4 landmark decisions, the high court rejected judgments made by political leaders and policymakers about how best to keep the country safe and free.
In each case, the majority justices struck their own balance between security and freedom.
Whether the country is now less safe remains to be seen. But the action is important because it signals a willingness of at least some of the justices to play a more aggressive role in ongoing national controversies, particularly Bush administration policies in the war on terror.
To critics it smacks of judicial supremacy. To supporters it is the high court taking principled and courageous stands.
Two of the decisions – striking down a death sentence for child rape and requiring judicial review for terror suspects held at Guantánamo Bay – are being hailed as liberal landmarks, while the third – enforcing Second Amendment gun rights – is seen as a conservative tour de force.
The losers in all three cases were elected officials who made policy choices.
---