Court declines to hear death-row appeal
Troy Davis, a Georgia inmate, asked for a new trial after seven witnesses recanted their testimony.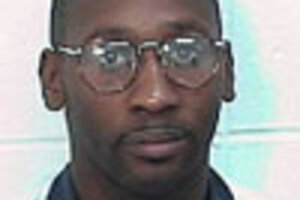 Georgia Department of Corrections/Reuters
The US Supreme Court has refused to take up the case of a Georgia death-row inmate who says the courts have denied him an opportunity to prove his innocence even after seven of nine trial witnesses changed their testimony.
The high court announced Tuesday that it had decided not to hear the appeal of Troy Anthony Davis, who was convicted and sentenced to die for the 1989 shooting death of a Savannah police officer.
Mr. Davis's Sept. 23 execution was halted by the Supreme Court two hours before it was set to take place. Tuesday's action by the justices sends the Davis case back to Georgia, where a new execution date is likely to be set.
The justices, who are sharply divided over the death penalty, did not comment on the case, and there were no dissents.
Death-penalty opponents said they were disappointed. "It is disgraceful that the highest court in the land could sink so low when doubts surrounding Davis' guilt are so high," said Larry Cox, executive director of Amnesty International USA, in a statement.
Virginia Sloan, president of the Constitution Project, said in a statement that the high court offered "the mere appearance of justice" in the Davis case. "Mr. Davis deserves to have his claims of innocence fully evaluated," she said.
At issue in the appeal was whether lower courts erred in failing to allow Davis a hearing to closely examine affidavits of changed testimony by trial witnesses. Lawyers for Davis say seven witnesses at his trial have recanted their testimony that implicated Davis as the shooter in the police officer's death. The lawyers also say they obtained statements from four new witnesses implicating someone else as the killer.
---