Closing Guantánamo prison may force new rules for trying terrorists
Obama will have to find a new balance between civil liberties and national security.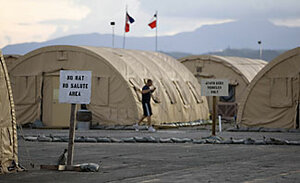 Brennan Linsley/AP/FILE
The prospect of closing the prison camp at Guantánamo Bay, Cuba, has sparked a broad and intensifying debate over key aspects of America's antiterrorism policy.
While advisers to President-elect Obama agree that Guantánamo must close, there is no accord yet over how best to achieve it in a way that signals real change while not endangering US national security.
In a CBS "60 Minutes" television interview on Sunday evening, Mr. Obama said he would act quickly to close Guantánamo and end controversial interrogation practices. "Those are part and parcel of an effort to regain America's moral stature in the world," he said.
No specific decisions on Guantánamo are expected to be made until the new administration's legal and national-security teams are in place. But the broad outlines of how Guantánamo is likely to close are beginning to emerge.
Many of the 250 detainees at the prison camp for terrorists will be transfered to their home country or a third country for continued detention. Some will be set free. The remainder, between 20 and 80 of the detainees, are expected to face some form of terrorism trial.
Much of the current debate is over how those trials should be conducted.
Some analysts say the administration should create a special national security court to prosecute the most difficult terrorism cases. Others insist that the federal court system in the US is robust enough to handle the challenge.
---