Should judges step aside when campaign cash is involved?
A West Virginia case before the US Supreme Court could clarify when judges must recuse themselves.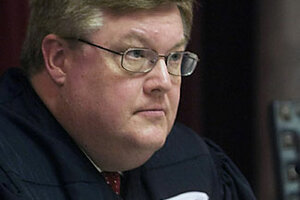 Bob Bird/ AP/File
Judges are expected to avoid not only direct financial conflicts of interest in cases before them but also the appearance of a conflict. The safeguard is designed to enhance public confidence in the nation's jurists as fair and impartial arbiters of the law.
If a judge accepted a $3 million gift from one party in a lawsuit, the judge would clearly be obligated to step aside. But what if the $3 million was spent in the context of a hard-fought judicial election?
That's the question at the center of a potential landmark case from West Virginia set for oral argument at the US Supreme Court on Tuesday involving judges, recusal, and the credibility of the judiciary.
At issue is whether a newly elected justice on the West Virginia Supreme Court of Appeals should have stepped aside in a case involving a coal company executive who spent $3 million to help defeat the former occupant of that justice's seat on the state high court.
The underlying case was a template for John Grisham's bestselling 2008 legal thriller "The Appeal."
The case is being closely watched because it arises at a time of sky-rocketing campaign spending in judicial elections. A high court decision could set new standards for when judges are required to excuse themselves from deciding cases involving individuals who made substantial contributions to their campaigns.
Or it could leave the recusal decision solely in the hands of the judge – in the same way that US Supreme Court justices decide entirely on their own whether to sit on a case or step aside.
"This was bound to happen, if not in West Virginia then somewhere else," says Bert Brandenburg, executive director of Justice at Stake, a group opposed to the proliferation of money in judicial elections.
---