Old maternity leave won't count toward pensions, Supreme Court rules
AT&T's decision to exclude pregnancy leave taken before the 1978 Pregnancy Discrimination Act from pensions today is not illegal discrimination, the court said.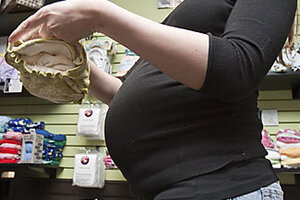 Nati Harnick/AP/FILE
Working women who were denied paid pregnancy leave in the 1960s and 1970s have lost an appeal at the US Supreme Court aimed at forcing their employer to grant compensatory service credits to boost their pensions.
In a 7-to-2 decision announced Monday, the high court ruled that the company, AT&T Corp., did not engage in gender discrimination when it calculated lower pension benefits for the women based on company pregnancy leave policies that were later deemed illegal gender discrimination.
At the heart of the case is a heated debate among legal scholars over whether the present effects of past discrimination can amount to a current and ongoing violation of antidiscrimination laws.
The question is of critical interest to working women who are at or approaching retirement age and who endured unequal treatment in the workplace in the 1960s and 1970s.
In 1978, Congress passed the Pregnancy Discrimination Act, which required companies to offer pregnancy leave on equal terms with disability leave policies for men.
Prior to the new law, many employers forced women to take unpaid personal time off for pregnancy and birth. AT&T was among them.
Upon passage of the new law, AT&T changed its policy to provide paid-leave benefits to expectant employees.
At issue in AT&T v. Hulteen was whether the company could continue to rely on service records from the 1960s and 1970s that exclude credit for pregnancy time off to calculate pension benefits 30 or 40 years later as those female employees approach retirement.
Lawyers for the women argued that failing to credit the prior unpaid pregnancy leave in determining pension benefits would amount to a new and current form of gender discrimination in violation of Title VII of the Civil Rights Act and the Pregnancy Discrimination Act.
---