Court ruling could protect top Bush officials from terror lawsuits
The Supreme Court on Monday dismissed a suit holding FBI Director Robert Mueller and former Attorney General John Ashcroft responsible for wrongful detention of Muslims after 9/11.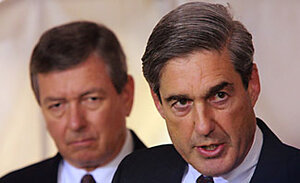 Gary Tramontina/AP/File
The US Supreme Court handed a major victory to FBI Director Robert Mueller and former Attorney General John Ashcroft on Monday when it dismissed a lawsuit that sought to hold both men personally responsible for allegedly violating the constitutional rights of post-911 detainees wrongly suspected of involvement in terrorism.
In a 5 to 4 decision, the high court ruled that the complaint against Mr. Mueller and Mr. Ashcroft must be dismissed because the plaintiff failed to present sufficient facts to justify the lawsuit.
The case was being closely watched because it raised the question of whether high-level government officials can be held accountable for harsh anti-terror policies that allegedly violate constitutional rights carried out by lower level officials.
"A plaintiff must plead that each government-official defendant, through the official's own individual actions, has violated the Constitution," Justice Anthony Kennedy wrote in the majority opinion.
A plaintiff must "plead sufficient factual matter to show that [government officials] adopted and implemented the detention policies at issue not for a neutral, investigative reason but for the purpose of discriminating on account of race, religion, or national origin."
In a dissent, Justice David Souter said he would allow the suit to move forward. "[The complaint] does not say merely that Ashcroft was the architect of some amorphous discrimination, or that Mueller was instrumental in an ill-defined constitutional violation; [the complaint] alleges that they helped to create the discriminatory policy."
---