Sotomayor opponents in weak field position so far
Obama's high-court pick is no 'stealth candidate.' She has made some 450 judicial decisions. What's more, she has not been shy about expressing her opinions publicly.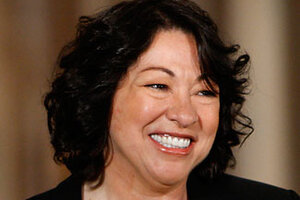 Pablo Martinez Monsivais/AP
The nomination of federal appeals-court judge Sonia Sotomayor to a seat on the US Supreme Court sets the stage for a national debate over the appropriate role of a high-court justice and whether Judge Sotomayor is the best person for the job.
But the debate may ultimately be far less aggressive than many conservative stalwarts would like. Short of a revelation of personal scandal, Sotomayor is almost certain to be confirmed with a solid Democratic majority in the Senate. And an aggressive campaign against her by Republicans could harm the party, already reeling from a poor performance last November and a decline in support among Hispanics.
Senate Republicans responded cautiously on Tuesday to the Sotomayor announcement, calling for "fair" hearings rather than launching aggressive attacks.
"We will thoroughly examine her record to ensure she understands that the role of a jurist in our democracy is to apply the law evenhandedly, despite their own feelings or personal or political preferences," said Republican Senate leader Mitch McConnell of Kentucky.
"The American people deserve a full and thoughtful debate about the proper role of a judge in the American legal system," added Sen. Jeff Sessions of Alabama, the senior Republican on the Judiciary Committee.
---