Stanford indicted on charges in alleged $7 billion swindle
The onetime billionaire sports enthusiast has proclaimed his innocence since the SEC brought accusations against him in February.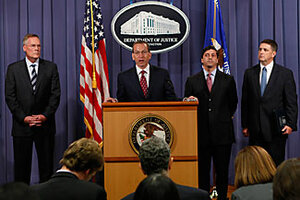 Gerald Herbert/AP
Robert Allen Stanford, the ostentatious Texas real estate and banking tycoon, was indicted along with four others Friday on charges of scheming to defraud investors of $7 billion while corrupting regulatory officials and obstructing justice.
The onetime billionaire sports enthusiast, who was made a knight by Antigua for reviving cricket in the Caribbean, is accused of fraudulently inflating the value of his Stanford International Bank from just over $1 billion in 2001 to $8.5 billion in 2008. He and his cohorts are also accused of conning investors into buying $7 billion in certificates of deposit, promising those funds were in "safe and secure" investments. He assured them the bank's strategy was to "minimize risk and achieve liquidity," despite the unusually high rates of return.
"In the end, [those promises] were simply too good to be true in light of the bank's actual investments and assets," said Assistant Attorney General Lanny Breuer, who announced the details of the charges at a press conference Friday in Washington. "According to the indictment, Stanford and his co-conspirators allegedly misused and misappropriated most of those investment assets, including diverting $1.6 billion into undisclosed personal loans to Stanford himself."
The mogul has insisted on his innocence since the Securities and Exchange Commission first accused him in February of running a "massive ongoing fraud." He did again Friday through his lawyer.
---