Supreme Court: Strip-search of 13-year-old girl was illegal
The decision sets the standard for how far school officials can go in conducting searches of students' property.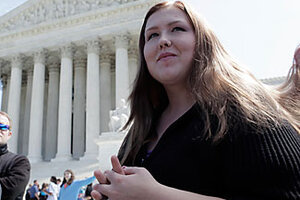 Evan Vucci/ AP/ File
Administrators at an Arizona middle school violated the privacy rights of a 13-year-old girl when they strip-searched her in a fruitless attempt to find prescription drugs, the US Supreme Court ruled Thursday.
In an 8 to 1 decision, the justices said the strip search of Savana Redding, an eighth-grade honors student, was an unconstitutional invasion of the girl's personal privacy.
But the court also ruled, 7 to 2, that since this area of the law was not clearly defined, the assistant principal who ordered the strip search was protected by qualified immunity and could not be sued personally for damages.
In the majority opinion, Justice David Souter acknowledged the strip search was "embarrassing, frightening, and humiliating" for Savana. He said school officials violated her Fourth Amendment rights because they had no reasonable expectation of actually finding drugs in the girl's underpants.
But he added: "We mean to cast no ill reflection on the assistant principal, for the record raises no doubt that his motive throughout was to eliminate drugs from his school and protect students."
Justices John Paul Stevens and Ruth Bader Ginsburg strongly disagreed with the conclusion on qualified immunity. They said they did not believe Assistant Principal Kerry Wilson should be granted immunity.
---