Firefighter ruling dials up heat on Sotomayor
The Supreme Court on Monday reversed a decision that she had made as part of a three-judge panel. The case centered on issues of race and discrimination.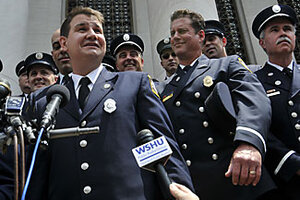 Jessica Hill/AP
Supreme Court nominee Sonia Sotomayor's Senate confirmation hearings start in two weeks, but she faced a crucible of a different sort Monday.
On the last day of the US Supreme Court's current term, the justices released an opinion in the New Haven firefighter reverse-discrimination case, overturning the ruling of a three-judge panel that included Judge Sotomayor.
That's not the sequence of events President Obama hoped for when he nominated Sotomayor to replace retiring Justice David Souter.
Sotomayor had upheld a federal judge's decision to throw out the firefighters' case. On Monday, the high court ruled 5 to 4 in the firefighters' favor.
Analysts pored over the 93 pages of opinions by the majority, by concurring justices, and by dissenting justices Monday for anything that might be used in support of or against Sotomayor at her July 13 hearings.
They found no smoking gun. Part of it may be because the three-judge panel that included Sotomayor offered only a brief unsigned summary order disposing of the firefighters' case.
An anonymous paragraph-long opinion does not offer much opportunity for critical scrutiny of one member of a three-judge panel.
Yet the stark difference between the appeals court's one-paragraph ruling and the 93 pages of analysis produced by four different justices Monday will likely trigger questions during Sotomayor's confirmation hearings.
The most-discussed portion of the high court's opinion relates to Footnote 10 of Justice Ruth Bader Ginsburg's dissent. In it, she suggests that even the four dissenting justices had some level of disagreement with the lower courts' actions. She said that under certain circumstances, the case might have been sent back to the lower courts for further consideration.
---