Burress's legal Hail Mary pass falls short
He wanted to persuade a grand jury of his innocence. Instead, it indicted him on three separate charges. Jail time is now a distinct possibility.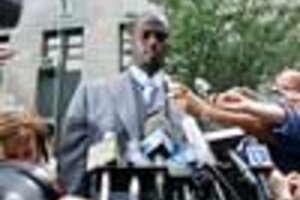 Lucas Jackson/Reuters
Football teams take risks all the time ... fourth and goal ... the Hail Mary pass.
But former New York Giant Plaxico Burress's decision to testify to a grand jury – the legal equivalent of a Hail Mary pass – has fallen short. On Monday he was indicted on two weapons charges and one count of reckless endangerment.
Having failed to impress the grand jury with his remorse, he must now must consider a plea deal from the district attorney – reported to be two years in jail – or go to trial next year.
Mr. Burress got into trouble Nov. 29 when he and teammate Antonio Pierce went to a nightclub and a gun Burress is alleged to have been carrying went off, wounding Burress. The case got even wider attention since no one called the police – not the nightclub or the NFL. New York Mayor Michael Bloomberg, part of an antigun group of mayors, called for Burress's prosecution.
---