DNA evidence clear Florida inmate after 26 years
Anthony Caravella was sentenced as a teenager to life imprisonment on charges of rape and murder. Increasingly, DNA tests are uncovering evidence of shoddy police work and questionable prosecution tactics.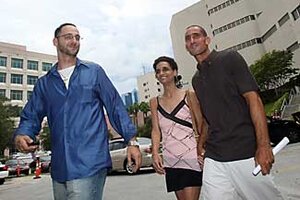 Mike Stocker/ South Florida Sun-Sentinel/ AP
A Florida man was released from custody on Thursday after spending 26 years in prison for a rape and murder his lawyer says he didn't commit.
Anthony Caravella was ordered released after a private laboratory test revealed someone else's DNA at the crime scene.
Although it was once considered a rare and remarkable event, a growing number of defendants are being ordered freed from prison as DNA tests continue to uncover evidence of false confessions, shoddy police work, and questionable prosecution tactics.
Mr. Caravella's release on Thursday is conditional, pending further investigation. If the release order becomes permanent he will be the 243rd person freed by DNA evidence nationwide, the 11th in Florida, and the fourth in Broward County.
Seth Miller, executive director of the Innocence Project of Florida, says despite the proven success of such efforts it is becoming increasingly difficult for defense lawyers to pursue DNA testing.
"Across the state of Florida the state is opposing DNA testing more often on the front end, rather than taking a wait and see approach," Mr. Miller says.
"Nobody likes to admit they are wrong," he says.
Prosecutors in the Caravella case have cooperated with defense lawyers in an apparent effort to uncover the truth.
Mr. Caravella was 15 years old in 1983 when detectives questioned him in connection with the murder of Ada Jankowski in nearby Miramar, Fla. Caravella has an IQ of 67 and is considered mentally retarded.
---