Supreme Court weighs arguments over Mojave cross
Did Congress try to bypass court orders and keep a cross on federal land? That's one question in the Supreme Court case about a cross erected in a national park in 1934 to honor the war dead.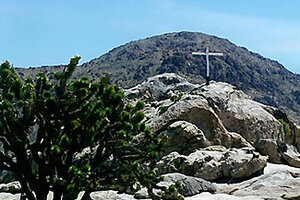 Henry and Wanda Sandoz / Liberty Legal Institute / AP
Few issues rouse passions as deeply as the proper role of religion in the public square. Ask nine citizens their views on the subject and prepare to hear nine different opinions.
It's the same at the US Supreme Court. On Tuesday, a sharply-divided high court plunged into a controversy over a five-foot-tall white cross in a Mojave Desert preserve owned by the federal government.
The cross was erected by private citizens in 1934 as an ad hoc memorial to war veterans. More than 70 years later, a federal judge declared it a violation of the separation of church and state because the cross was on federal land.
Now, the resulting litigation has unleashed a national debate. On one side, lawyers with the American Civil Liberties Union (ACLU) say such stand-alone religious symbols have no place on public land. On the other side, veterans and certain religious groups accuse the ACLU of waging a campaign to wipe any sign of religious faith from public property.
Congress versus the courts
Specifically at issue in Salazar v. Buono is a disagreement between Congress and the federal judiciary over how best to resolve the controversy over the cross.
---