Obama endorses military commissions for Guantánamo detainees
Obama signed the Military Commissions Act of 2009 Wednesday. Critics say it is an improvement over past efforts but still offers only second-class justice to Guantánamo detainees.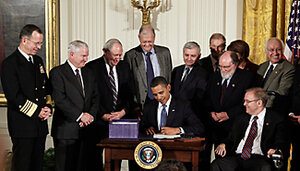 Jim Young/Reuters
In signing the National Defense Authorization Act on Wednesday, President Obama has personally endorsed yet another attempt by the US government to conduct military-commission trials of terror suspects currently held at the Guantánamo detention camp.
Similar efforts have stalled with legal challenges and Supreme Court decisions. But supporters say that the Military Commissions Act of 2009 balances the demands of fairness and due process against a real-world need for flexibility when seeking to prosecute accused Al Qaeda leaders and supporters.
Critics say that the 2009 act is an improvement over prior versions of military-commission regimes passed during the Bush administration. But they say it is still substandard, offering a second-class system of justice designed to obtain quick convictions.
"While the new law addresses some of the defects of the military commissions, it fails to bring the tribunals in line with the Constitution and the Geneva Conventions," said Jameel Jaffer, director of the American Civil Liberties Union's National Security Project.
"The Obama administration has committed to closing the prison at Guantánamo, but closing the prison will have little meaning if the administration leaves in place the policies that the prison has come to represent," he said.
---