Khalid Sheikh Mohammed 9/11 trial carries risks
Alleged 9/11 mastermind Khalid Sheikh Mohammed and four others will be tried in federal court. It's a risky decision by the Obama administration, opening the way for aggressive defense tactics.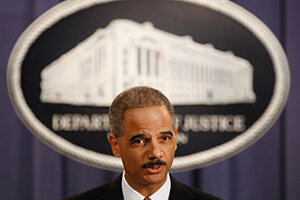 Kevin Lamarque/REUTERS
The self-described mastermind of the 9/11 terror attacks, Khalid Sheikh Mohammed, and four alleged co-conspirators have been designated to stand trial in a federal courtroom in New York City.
The announcement on Friday touched off an immediate and heated debate over the potential implications of the move. Attorney General Eric Holder called it "the toughest decision I've had to make as attorney general."
In rejecting the option of trying the five men before a military commission, the Obama administration is setting the stage for a potentially historic trial in a civilian courthouse just a short walk from the empty skyline where the World Trade Center's twin towers once stood.
The move represents an assessment by Attorney General Holder that the harsh treatment meted out by US intelligence officers during prolonged interrogations – including waterboarding – will not prevent federal prosecutors from producing enough taint-free evidence to win convictions.
Legal risks of New York trial
But the move carries risks, legal analysts say. It opens the door to aggressive defense tactics that will seek to put the US government itself on trial for alleged lawless kidnappings and interrogations. It will trigger an array of fundamental constitutional challenges – including an argument that the last place on earth the 9/11 conspirators can receive a fair trial is New York City.
Perhaps more important, analysts say, it carries risks that a trial in an open New York courtroom could provide an international stage for Mr. Mohammed to portray himself to the Muslim world as a hero and martyr who has endured torture and injustice at the hands of the US government in service to Islam. A guilty verdict and death sentence under those circumstances would only enhance his standing among some Muslims.
---