Illinois divided over news of incoming Guantanamo detainees
Illinois' Republican lawmakers oppose the Obama administration's decision to transfer some Guantanamo detainees to a prison in the state - and a recent poll shows a majority of Illinois voters do, too. But Democratic leaders are behind the move, citing new jobs.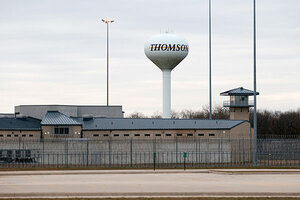 Stephanie Makosky/Reuters/File
The administration's decision to transfer several dozen detainees from Guantánamo Bay to Thomson Correctional Center in northwest Illinois comes as welcome news to prominent Democratic politicians in the state, including Gov. Pat Quinn and Sen. Richard Durbin, who have lobbied for the choice.
But whereas most Illinois Democrats point to the jobs and money that would flow to a depressed area of the state, Republicans, led by Rep. Mark Kirk, have opposed it, arguing that moving detainees to the area poses a security risk for northern Illinois and Chicago.
"Our economy is hurting everywhere … but the idea of moving a detention facility, where 200 of the worst known criminals on earth live, to our state under the guise of economic stimulus is outrageous," says Rep. Aaron Schock, one of several Illinois Republicans who introduced a bill last month that would prohibit using federal dollars to move the detainees to US soil.
Still, there may not be much they can do to fight the decision, announced by the White House on Tuesday.
---