As deadline approaches, Obama speeds up Guantánamo Bay closure
The Obama administration's announcement Sunday that 12 Guantánamo detainees would be sent to other countries followed news that some detainees would be transferred to an Illinois facility. The president set a Jan. 22, 2010 deadline for closing the Guantánamo Bay prison, but seems unlikely to meet it.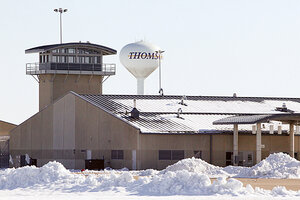 Newscom
The Obama administration is accelerating its efforts to close down the Guantánamo Bay detention facility, with the Justice Department's announcement Sunday of a dozen more prisoner transfers to three foreign countries.
The announcement, following news last week of plans to transfer some Guantánamo prisoners to a facility in Illinois, suggests the Obama administration is moving quickly in several directions to shutter the much-maligned facility as close as possible to Mr. Obama's own deadline of Jan. 22, 2010. The different approaches include trial for some detainees in federal court, detention of others on US soil, and transfer of still more to other countries.
The president acknowledges he is now unlikely to meet his Jan. 22 deadline, which corresponds with the completion of his first year in office. With just under 200 detainees remaining at Guantánamo, many analysts say a plan that seemed doable a year ago is bumping up against significant national-security considerations.
"This is a place where national security concerns run right up against political commitments made by the president in the campaign," says Charles Dunbar, a professor of international relations at Boston University who earlier served as a US ambassador to Yemen and as chargé d'affaires in Kabul, Afghanistan.
---