Lockerbie bombing families find 21-year anniversary a tough one
Families of Lockerbie bombing victims gather in Washington, knowing that the only man convicted of the crime has been released from prison for health reasons and had almost £2 million in a bank account at the time Pan Am Flight 103 went down.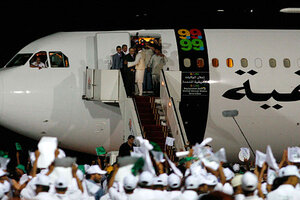 Stringer/REUTERS
The holidays are always a difficult time for the families of the victims of Pam Am Flight 103.
It was only four days before Christmas – 21 years ago Monday – that a bomb aboard the transcontinental flight detonated over Lockerbie, Scotland, killing 270 people.
But this year is especially tough. Four months ago, the only person to be held legally responsible for the 1988 terrorist attack was released from prison on grounds that he was terminally ill. Then, two days ago, the families learned that the bomber had nearly £2 million in a personal bank account at the time of the attack.
"One of the problems with this case is that it never seems to end," says Frank Duggan, president of the Victims of Pan Am Flight 103.
Still, the families of Americans killed on the flight will gather Monday at Arlington National Cemetery, as they have each year, to console one another and read aloud the names of their absent loved ones. As before, they will bring flowers to place on the memorial and a wreath with 21 red blooms, one for each year since the bombing. While most of Washington digs out from its recent record snowfall, they will sit in cold metal chairs, listen to a bell toll 270 times, and think of their lost children, spouses, and parents.
Across the Atlantic Ocean, Abdelbaset al-Megrahi, who was convicted in 2001 and sentenced to life in prison (with a minimum of 27 years before being considered for parole), was reported to be receiving care in Libya at a Tripoli hospital on Sunday. A health worker told Scotland's Herald that Mr. Megrahi's health is deteriorating.
---