Runaway convert case: family issue or test of sharia law in US?
A Muslim girl who converted to Christianity in Ohio fled her family because she said she felt her life was in danger. A judge ruled Tuesday that the family must discuss their religious views, though they are not required to meet in person.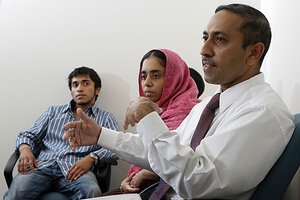 Jay LaPrete/AP/File
The Muslim teenager who converted to Christianity and ran away from home, claiming she feared for her life, does not have to meet with her parents in order to mediate her future, a judge ruled late Tuesday.
After converting to Christianity earlier this year, Fatimah Rifqa Bary says her father threatened her life. She fled her family home in Ohio to stay with a pastor in Orlando, Fla., who had vowed via Facebook to protect her.
Two separate law-enforcement investigations have found no credible threats to Rifqa's life were she to return home, but a Florida court placed her in foster care in her home state until the case is resolved.
At a hearing Tuesday in Ohio, the judge ordered that Rifqa and her family have a discussion about their religious beliefs, but did not go so far as to order them to meet face to face.
The hearing also crystallized Rifqa's legal strategy – stall the case in the courts until she turns 18 this summer. Once legally an adult, she can make her own decisions about where to live and how to pray.

If the case does go to trial, Rifqa's lawyers are expected to introduce evidence about apostasy and honor killings. Her parents say they simply want her to return home.
---