Terror suspect Zazi pleads guilty, cooperates with government
Terror suspect Najibullah Zazi, arrested in September in New York explosives plot, pleaded guilty Monday and is apparently cooperating with federal officials.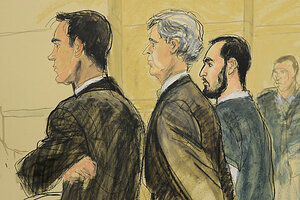 Elizabeth Williams/AP
Terror suspect Najibullah Zazi, an immigrant from Afghanistan who was living in Denver, has admitted he planned to try to set off explosives to kill Americans, most likely in New York.
He also pleaded guilty to conspiracy to commit murder in a foreign country and providing material support to a terrorist organization.
His guilty plea may mean even more for the war on terror, since it appears Mr. Zazi has agreed to cooperate with federal officials.
Terrorism officials believe the government probably would not have agreed to let him plead guilty with the prospect of some leniency at sentencing, if they did not believe he had information that could be helpful at preventing more attacks.
"The way it typically works is: Before a prosecutor will accept cooperation from the defendant, there has to be some offer of truth at a proffer session," says Robert Mintz, a former federal prosecutor in New Jersey and a partner at McCarter & English in Newark. "The prosecutor will want to know what that information is with regards to the other co-conspirators and will want to assess the value for other prosecutions."
The government also has charged two of Zazi's high-school classmates with conspiracy to kill US soldiers in Afghanistan. Both men, who have pleaded not guilty, are due in court Feb. 25. And it has charged an imam, Ahmad Wais Afzali, from a mosque in Queens with tipping off Zazi that he was being investigated.
It's not clear what information Zazi has, but he has already admitted that he attended a camp in Pakistan where he learned to make bombs.
---