Supreme Court rules that police can ad lib Miranda warnings
Police officers do not have to use exact wording when delivering Miranda warnings to criminal suspects, the Supreme Court ruled Tuesday in a 7-to-2 decision.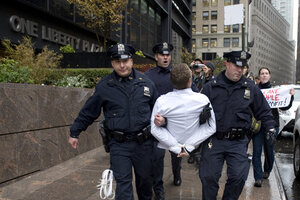 NEWSCOM/FILE
Police officers are not required to use exact, cookie-cutter phrasing while advising criminal suspects of their right to have a lawyer present with them throughout a police interrogation, the US Supreme Court ruled Tuesday.
In a 7-to-2 decision, the high court sought to clarify the rule requiring issuance of so-called Miranda warnings to suspects who are about to be questioned by police.
Writing for the majority, Justice Ruth Bader Ginsburg said that police agencies need not repeat the precise wording used by federal agents in pre-interrogation warnings. The key, she said, is that the suspect be given adequate advice covering all the Miranda protections.
"The four warnings Miranda requires are invariable, but this court has not dictated the words in which the essential information must be conveyed," Justice Ginsburg wrote.
She said that reviewing courts need not parse an officer's Miranda warnings with the precision of construing a will or defining an easement. "The inquiry is simply whether the warnings reasonably convey to a suspect his rights as required by Miranda," she wrote.
The warnings, named for a landmark Supreme Court decision, Miranda v. Arizona, include the familiar advice that the suspect has a right to remain silent and that anything said can and will be used against him in a court of law. The warnings include a notification that the suspect enjoys a right to consult a lawyer.
---