Stevens retirement gives Obama second Supreme Court pick
John Paul Stevens, the longest serving Supreme Court justice, plans to leave the bench in June. The Stevens retirement allows President Obama to name a second high court justice, opening the way for a likely confirmation battle.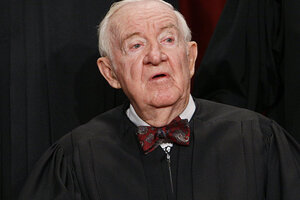 Charles Dharapak/AP/File
Justice John Paul Stevens, who has served on the US Supreme Court since 1975, announced on Friday that he will be leaving the court at the end of the current term in June.
The announcement opens the way for President Obama to make his second nomination of a justice to America's highest court. It also sets the stage for what could become a highly contentious confirmation battle this summer over Justice Stevens' replacement.
Stevens is both the court's longest-serving justice and its oldest. He will celebrate his 90th birthday later this month.
IN PICTURES: Frequently mentioned Supreme Court possibilities
The official announcement came in a letter Stevens sent to the White House Friday morning.
Stevens' retirement no surprise
The retirement is not a surprise. Stevens had said in recent interviews that he would decide soon whether to leave the court this summer or next summer. He said he would do so to allow Mr. Obama the opportunity to nominate his successor.
Stevens' announcement drew messages of praise from all quarters in Washington – Democrats and Republicans, legal scholars, and advocacy groups.
---