Supreme Court rules for African-Americans in firefighter hiring case
Some 6,000 African-American applicants for jobs with the Chicago Fire Department can proceed with a discrimination lawsuit over the firefighter hiring test, the Supreme Court ruled Monday.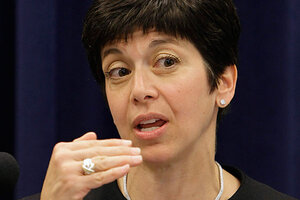 Charles Rex Arbogast/AP
The US Supreme Court ruled on Monday that some 6,000 African-American job applicants are entitled to pursue a discrimination lawsuit claiming a Chicago Fire Department hiring test created a disparate impact against minority candidates.
The justices unanimously reversed a federal appeals court decision that had thrown out the group's class-action lawsuit on grounds that they had filed their challenge after a 300-day deadline had passed.
Writing for the court, Justice Antonin Scalia said lawsuits attacking ongoing employment practices that result in disparate impacts against minority groups are not tied to the same 300-day limitations period.
The decision marks the second time in two years the high court has grappled with claims of employment discrimination in fire department hiring tests. Last year the court ruled 5 to 4 for a group of white firefighters in New Haven, Conn., who claimed the city discriminated against them when it threw out a hiring test they had passed but in which no African-Americans tested high enough to win a promotion.
In the Chicago case, it was African-American applicants who sued, claiming that they suffered a disparate impact when the city divided candidates who passed a hiring test into two groups: "qualified" and "well qualified."
---