Ronnie Lee Gardner: Is Utah firing squad a more humane execution?
Ronnie Lee Gardner, who is scheduled to be executed by firing squad in Utah just past midnight local time Friday, raises questions about the relative humaneness of methods of execution.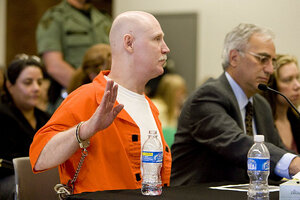 Trent Nelson/AP/Pool
Ronnie Lee Gardner is scheduled to be executed at 12:05 a.m. Friday in the Utah State Prison, spotlighting a long list of sensitive issues about the death penalty, ranging from cost to crime deterrence to the relative humaneness of specific methods, such as firing squad.
Mr. Gardner, convicted of two murders – one during a courthouse escape attempt in 1985 – had been selected to die by lethal injection. But in an April court hearing he said, "I would like the firing squad, please."
There is some evidence that firing squad is less "barbaric" than lethal injection, says John Holdridge, director of the Capital Punishment Project of the American Civil Liberties Union (ACLU), which campaigns against the death penalty.
A Utah inmate who in 1938 agreed to be shot to death while hooked up to an electrocardiogram showed complete heart death within one minute of the firing squad's shots. By contrast, research shows that a lethal injection – if done properly – takes about nine minutes to kill an inmate.
Support for death penalty dropping
Polls show public support of the death penalty has been dropping steadily since the 1990s, partly because of the number of convictions shown to be wrong by The Innocence Project, a national litigation and public policy organization dedicated to exonerating wrongfully convicted people through DNA testing.
---