Supreme Court ruling boosts Enron executive Jeffrey Skilling
The US Supreme Court narrowed the definition of 'honest services' fraud, throwing out a portion of Enron CEO Jeffrey Skilling's conviction. It's a blow to the Justice Department.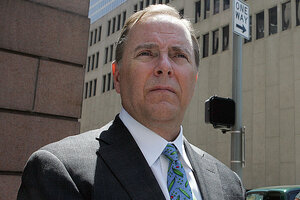 Newscom
The US Supreme Court on Thursday undercut a key portion of the conviction of former Enron executive Jeffrey Skilling, ruling that the "honest services" fraud statute used to convict him had been interpreted too broadly by the lower courts.
The high court said it was reinterpreting the law more narrowly to criminalize only honest services conspiracies involving bribery and kickbacks. The justices thus avoided having to strike down the statute as unconstitutionally vague.
The 9 to 0 ruling is a major loss to the US Justice Department and federal prosecutors nationwide who have increasingly relied on the broadly-worded statute as a catch-all to beef up corruption indictments and white collar fraud cases.
In addition to vacating a portion of Mr. Skilling's conviction, the high court also vacated the convictions of former newspaper magnate Conrad Black and a former Alaska state representative, Bruce Weyhrauch. Both men, like Skilling, were charged with failing to provide their honest services.
The government had urged the high court to embrace an expansive view of the honest services law that would criminalize "undisclosed self-dealing by a public official or private employee."
---