Florida ban on gay adoption unconstitutional, court rules
Florida's ban on gay adoptions, perhaps the toughest in the country, violates the state constitution, a court ruled Thursday. The state has not yet decided whether it will appeal.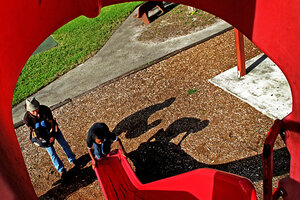 Carl Juste/The Miami Herald/AP
Lawyers for the state of Florida are considering whether to ask the Florida Supreme Court to review a decision by a Miami-based appeals court striking down a 33-year ban on adoption by gay couples.
Gov. Charlie Crist (I) said the state would not enforce the ban pending a decision on whether to appeal the 28-page ruling handed down on Wednesday. He said he was pleased by the ruling.
The three-judge panel of the Third District Court of Appeal ruled that Florida's ban on gay adoption violates the equal protection clause of the Florida Constitution.
The decision upholds an earlier ruling by a state trial judge that state officials have no rational basis to deny a fit foster parent who happens to be gay the right to adopt the two boys he's cared for since 2004.
Florida law permits homosexuals to serve as foster parents and to serve as legal guardians. But a section of the law prohibits homosexuals from adopting a child.
"The legislature is allowed to make classifications when it enacts statutes," the appeals court said. "The classifications must, however, be based on a real difference which is reasonably related to the subject and purpose of the regulation."
The court concluded: "It is difficult to see any rational basis in utilizing persons as foster parents or guardians on a temporary or permanent basis, while imposing a blanket prohibition on adoption by those same persons."
---
Follow Stories Like This
Get the Monitor stories you care about delivered to your inbox.