Anita Hill vs. Virginia Thomas: Is an apology due 19 years later?
(Read article summary)
Anita Hill accused Supreme Court Justice Clarence Thomas of sexual harassment in 1991. Virginia Thomas, the justice's wife, has now asked Anita Hill to apologize. She's also in the spotlight for her political activism.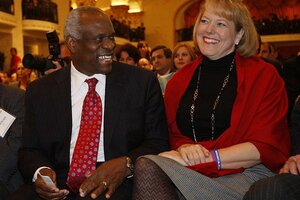 Charles Dharapak/AP
One of the most difficult confirmation hearings in US Supreme Court history has returned 19 years later in a story involving race, gender, and today's highly contentious political scene.
To most people, Virginia Thomas is not a well-known figure. But as the wife of Supreme Court Associate Justice Clarence Thomas she has the capacity to make news – whether she wants to or not. And she certainly is making news these days.
Ms. Thomas recently left a voice mail for Anita Hill asking Ms. Hill "to consider an apology … and some full explanation of why you did what you did with my husband."
During Justice Thomas's confirmation hearing in 1991, Hill accused him of sexual harassment when she worked for him at the US Department of Education and the US Equal Employment Opportunity Commission.
Hill, now a professor at Brandeis University, at first thought the voice mail message was prank. She reported it to the university's security office, which turned it over to the FBI. Ms. Thomas has acknowledged that the voice mail was from her.
The recent voice mail to Anita Hill is not the only reason for recent interest in "Ginni" Thomas, as she's known.
---