Can US kill American-born cleric Anwar al-Awlaki? Judge to hear case.
American-born cleric Anwar al-Awlaki is hiding in Yemen, where he's a leader of Al Qaeda in the Arabian Peninsula. He's trained terrorist recruits and helped prepare the Christmas Day bomber.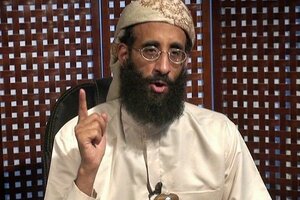 Newscom
A federal judge is set to hear arguments on Monday in a lawsuit challenging an alleged secret Obama administration plan to use lethal force against an American-born Islamic cleric hiding in Yemen.
The cleric, Anwar al-Awlaki, is a leader of the Yemen-based group Al Qaeda in the Arabian Peninsula. He has facilitated training camps in Yemen, encouraged new recruits, and helped prepare Umar Abdulmutallab in his attempt to blow up an airliner near Detroit on Christmas Day 2009, government lawyers say.
In July, US authorities listed Mr. Awlaki as a "specially designated global terrorist." According to press reports, he is on a US government "kill list."
RELATED: Yemen orders troops to 'forcibly arrest' Al Qaeda cleric Anwar al-Awlaki
The lawsuit, filed on behalf of Awlaki's father by the American Civil Liberties Union, challenges the government's authority to carry out the intentional killing.
Although the government has authority under certain circumstances to engage in the use of lethal force against American citizens deemed a threat to national security, those circumstances do not exist in the case of Awlaki, the lawsuit says.
---