WikiLeaks suspect: Where Army sees traitor, some see whistleblower
Stakes rose this week for soldier Bradley Manning, now that charges against him in the WikiLeaks case include a capital crime. But Pentagon Papers leaker Daniel Ellsberg sees cause for alarm in Army's prosecution.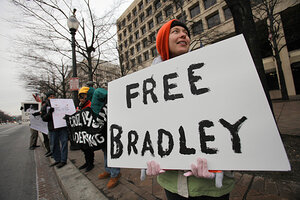 Jacquelyn Martin/AP
The stakes got higher this week for Army Pvt. First Class Bradley Manning, now that the charges against him in the WikiLeaks case include a capital offense: aiding the enemy. But even as he is denounced from Capitol Hill to the Pentagon for his alleged role in the massive documents release, the young soldier is for now attracting some high-profile defenders who argue that his case has more to do with whistleblowing than treason.
Daniel Ellsberg, who was arrested for releasing classified documents describing the conduct of the Vietnam War to The New York Times in 1971, says the parallels between his case and Manning's are "quite striking." President Nixon, he notes, had accused him of "giving aid and comfort to the enemy."
Moreover, Mr. Ellsberg continues, it's hard to see how the enemy – unnamed in new charges against Bradley but presumably Al Qaeda or the Taliban – was aided by the WikiLeaks document release. In fact, the opposite may be true, he said in a conference call with reporters on Thursday. Al Qaeda "wants these wars to continue because they are the main basis for recruiting" other insurgents, he says, but release of the documents to WikiLeaks could be seen as an effort to galvanize the American public to call for an end to the wars.
---