Illinois abolishes death penalty, will other Midwest states follow?
Gov. Pat Quinn signed a bill to make Illinois the 16th state to abolish the death penalty. Questions about the fairness of the death penalty led to a state moratorium in 2000.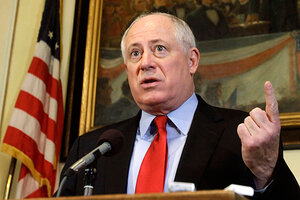 Seth Perlman/AP/File
Illinois became the 16th state to abolish the death penalty Wednesday after more than a decade spent reexamining the state justice system, its record, and the cost of conducting executions.
A moratorium on executions had been in place here since 2000, after a string of death-row inmates were exonerated because of prosecutorial misconduct. Citing concerns about the justice system, then-Gov. George Ryan (R) halted all executions in the state pending a review and granted clemency to 164 death-row inmates before leaving office.
At the time, the Illinois moratorium shined a national spotlight on problems in capital-punishment cases and began to shake public confidence in the infallibility of the justice system. With Gov. Pat Quinn (D) signing the law to abolish the death penalty in Illinois Wednesday, capital-punishment foes hope that states with higher execution rates, particularly in the Midwest, will follow Illinois's lead and muster the political will to end it.
"Illinois is going to be the bellwether on the American death penalty. It was the focus since the very beginning of the debate," says Rob Warden, executive director of the Center on Wrongful Convictions at Northwestern University's School of Law in Chicago.
---