Prop. 8: Gay marriage still on hold in California, says Ninth Circuit
The Ninth Circuit ruled Wednesday not to lift the 'temporary' stay on same-sex marriages in California, imposed in August 2010.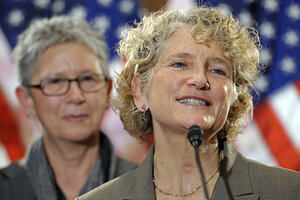 Cliff Owen / AP
Until its fate is decided in state and federal appeals courts, California's Proposition 8 will prevent same-sex couples from marrying in California.
That is the March 23 decision of three judges on the Ninth Circuit Court of Appeals, after they were asked to lift a stay on last year's ruling that Prop. 8 is unconstitutional. Prop. 8 is a voter initiative that limits marriage to heterosexual couples, passed by referendum in 2008 and declared unconstitutional by a district court in 2010.
Gay-rights advocates say they had hoped that same-sex couples could marry while appeals progressed, especially as the Ninth Circuit said last autumn that those appeals would be put on a legal fast track – but that track has taken a detour. "We think the court made a mistake, because there is no direct harm to others if same-sex couples are allowed to marry, but there is direct harm to us by not getting married," says Geoff Kors, executive director of Equality California.
The California Supreme Court indicated in February that it will not open hearings before September on the key question of standing – i.e., who can make the appeal, since the original defendants, the governor and attorney general, have refused to continue defending Prop. 8.
---