Supreme Court to decide Arizona's unique campaign financing law
Arizona seeks to level the political playing field by helping finance some political candidates in a match of funds raised privately by opposing candidates. Does that chill free speech?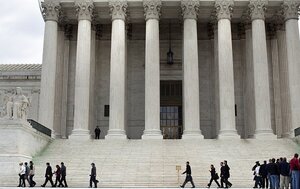 Newscom
In the most important test of a campaign finance reform law since last year's Citizens United decision, the US Supreme Court on Monday is set to examine the constitutionality of an Arizona statute that guarantees government money to certain political candidates in a dollar-for-dollar match of funds raised by opposing candidates through private donations.
At issue is whether Arizona's system of public financing of state election campaigns violates the First Amendment rights of candidates who decide not to participate in the state-funded campaign system.
Candidates who opt-out are free to raise and spend as much money as they wish provided they abide by the state's limits on individual contributions.
But the Arizona system is designed to encourage candidates to participate in the publicly-financed program. It does so by rewarding participants with automatic payments of matching funds whenever their privately-funded opponent spends certain amounts of money to advocate his or her political views.
The law, known as the Citizens Clean Elections Act, also applies to spending by independent advocacy groups. Expenditures by such groups either for a privately funded candidate or against a publicly funded candidate trigger state-provided matching funds to help the publicly funded candidate counter the group's political activities.
A central issue in the case is whether the law punishes speech by privately funded candidates or merely enhances speech by candidates who accept only public funding.
---