Supreme Court: No warrant needed if police discern destruction of evidence
The Supreme Court ruled 8 to 1 on a Kentucky case in which police broke into an apartment after smelling marijuana and hearing sounds suggesting evidence was being destroyed.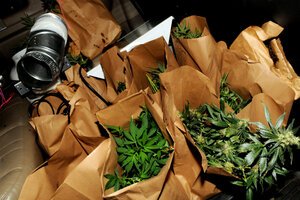 Henrietta Wildsmith/The Shreveport Times/AP
Police do not need a search warrant if, after knocking on a closed door and announcing their presence, they discern that evidence of a crime is being destroyed on the other side, the US Supreme Court ruled Monday.
In an 8-to-1 decision, the high court sought to clarify an exception to the Fourth Amendment's requirement that police obtain a court-authorized search warrant before entering a private home.
The justices said in certain emergency circumstances a warrant is not necessary, provided that law enforcement officials act reasonably in compliance with Fourth Amendment protections and do not threaten to violate them.
The case involved a dispute over whether police in Lexington, Ky., were justified in the events that led to the arrest and conviction of Hollis King for drug trafficking.
Police were in pursuit of an individual who had just purchased crack cocaine during an undercover sting operation. Uniformed police officers followed the suspect into an apartment complex, but did not see which of two apartments he entered – the door on the right or the door on the left.
Strong odor of marijuana
As they approached, police noticed a strong odor of marijuana coming from under the door on the left. They assumed the suspect was hiding in that apartment. (In fact, he had entered the door on the right.)
Police knocked on the door on the left, announcing their presence. When no one answered, they pounded on the door. After hearing noises suggesting evidence was being destroyed, the police kicked the door open.
---