Supreme Court refuses terror suspects' case alleging CIA torture
US Supreme Court on Monday declined to hear the case of five foreigners seeking to pursue a lawsuit alleging CIA-directed torture abroad. With that, appeals court ruling stands, disallowing the suit to protect 'state secrets.'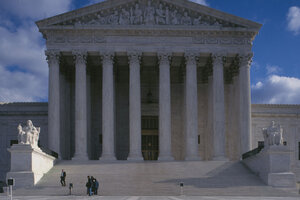 Newscom/File
The US Supreme Court on Monday turned away an appeal by five foreign nationals seeking to reinstate a lawsuit claiming they were kidnapped and tortured overseas at the direction of the Central Intelligence Agency.
The high court acted without comment. The case involved the US government's use of the so-called state secrets privilege to have certain lawsuits immediately thrown out of court when they touch on sensitive national security issues.
The five men were all suspected of being Islamic militants. They alleged in a lawsuit filed by the American Civil Liberties Union that they were victims of a secret US policy called extraordinary rendition.
How much do you know about the US Constitution? A quiz.
US officials have acknowledged that such a policy existed, but the government nonetheless urged the courts to throw the case out because the litigation would disclose state secrets.
The dismissal by the high court comes after a period of years when both the Bush and Obama administrations have increasingly invoked the state secrets doctrine to quash lawsuits seeking independent judicial oversight to examine allegations of civil and human rights violations – including torture – by the US government.
---