Casey Anthony defense tries to put Florida prosecutors on trial
Defense attorneys for Casey Anthony are seeking to put the prosecution on trial, alleging an at times incompetent investigation into Caylee's death. The tactic could be working with some jurors.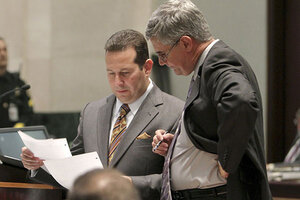 Red Huber/AP
The defense in the Casey Anthony murder trial is seeking to turn the tables on the prosecution, attempting to put the state itself on trial for conducting what defense lawyers suggest was a lackluster and, at times, incompetent investigation into the death of Ms. Anthony's two-year-old daughter, Caylee.
Although Chief Judge Belvin Perry is trying to head off the tactic by sustaining frequent prosecution objections at the trial, defense attorney Jose Baez is managing to raise substantial questions that could trouble at least some members of the jury.
The jurors have heard testimony that a "shoddy" autopsy was performed by the county medical examiner, that an FBI lab technician's own DNA contaminated a piece of duct tape that the state alleges is the murder weapon, and that a crime scene investigator placed a bag of wet trash with live maggots from Ms. Anthony's car into a drier to preserve the contents for long-term storage.
They have heard about heart-shaped residue that mysteriously disappeared from the surface of the duct tape/alleged murder weapon before it could be photographed. They also heard that investigators waited 3-1/2 months after tests showed the possible presence of chloroform in Anthony's car before obtaining a warrant to search the Anthony home for evidence of chemicals, mixing instructions, chemistry equipment, or store receipts related to chloroform. Nothing was found.
In addition, the defense is suggesting that the state missed opportunities to conduct DNA testing on the maggots found in the trash bag in Anthony's car. Two entomologists and a DNA expert have testified that such testing would have been possible. It was apparently not done.
---