Supreme Court declines to take up Abu Ghraib detainee lawsuit
The Supreme Court declined without comment the case of 250 former Abu Ghraib detainees whose lawsuit against private contractors, for allegedly abusing and torturing Abu Ghraib inmates, had been thrown out of federal court.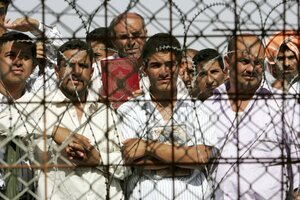 Ali Jasim / Reuters / File
A group of former detainees at the infamous Abu Ghraib prison in Iraq will not be able to sue military contractors who they say participated in torture and other illegal acts of abuse at the US-run detention facility in 2003 and 2004.
The US Supreme Court on Monday declined without comment to take up the case of Saleh v. Titan Corporation.
The suit raised the issue of whether private contractors hired by the US military to perform services in a war zone may be held accountable for allegedly participating in acts of torture and other war crimes.
A federal appeals court in Washington threw out the suit against two contractors, Titan Corporation, which provided Arabic translation services, and CACI International, which provided interrogators. On Monday, the detainees lost their bid to reinstate the lawsuit.
Images of detainees at Abu Ghraib enduring harsh and abusive interrogation tactics sparked international outrage. The tactics included forced nudity, sexual humiliation, beatings, hooding, stress positions, isolation, and sleep deprivation. In one case, family members were allegedly forced to watch US interrogators suspend a man by his arms and beat him so severely that he later died. Some detainees were allegedly raped.
A handful of relatively low-level military personnel at the prison were prosecuted for some of the abuses.
---