Threats to Casey Anthony: How safe will she be after leaving prison?
Law enforcement officials in Orange County say that so far there are no credible threats against Casey Anthony that require prosecution. No 'elaborate security protection' is planned.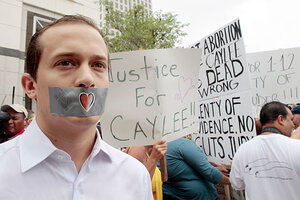 Alan Diaz/AP
Five days before her expected release from jail, law enforcement officials in Orlando are assessing potential threats against Casey Anthony, the Florida mother who was acquitted last week of killing her two-year-old daughter.
Ms. Anthony is set to leave the Orange County Jail on Sunday amid continuing anger among many trial watchers who disagree with the jury's verdict.
"Our intelligence section is assessing the threats," Sergeant John Allen of the Orange County Sheriff's Department told members of the media on Tuesday.
Sheriff Jerry Demings said the Anthony case had sparked significant and heated discussion, but nothing so far that would prompt an arrest. "As of today, we don't have any credible threats to move forward with an active prosecution," he said.
In an unusual post-acquittal press conference, members of the Orange County Sheriff's Office answered a wide range of questions about the three-year investigation into the disappearance and death of Ms. Anthony's daughter, Caylee.
The investigators offered no bombshell disclosures. They said Casey's father, George Anthony, was never a suspect in Caylee's death or of involvement in the disposal of her body in a wooded area a quarter-mile from the Anthony home.
---