Appeals court allows US citizens' torture suit against Rumsfeld
The judges ruled 2-to-1 that two US citizens can bring a civil suit against former Defense Secretary Donald Rumsfeld for their alleged torture while they were held in a US military prison in Iraq in 2006.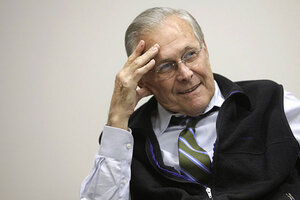 Jacquelyn Martin/AP
Former Defense Secretary Donald Rumsfeld may be held personally responsible in a civil lawsuit for the alleged torture of two American citizens held without charge in a US military prison in Iraq in 2006, a federal appeals court ruled on Monday.
The panel voted 2-to-1 to allow a lawsuit filed by the two former detainees, Donald Vance and Nathan Ertel, to move forward toward a trial before a federal judge in Chicago.
Government lawyers argued that the suit must be dismissed based on rulings in earlier cases by appeals courts in New York and Washington, D.C. The Chicago-based appeals court panel said the Vance/Ertel lawsuit was different because the two earlier decisions involved noncitizens.
"We agree with the district court that a … remedy is available for the alleged torture of civilian US citizens by US military personnel in a war zone," Judge David Hamilton wrote for the two-judge majority.
He said the government's argument, if accepted, would "deprive civilian US citizens of a civil judicial remedy for torture or even cold-blooded murder by federal officials and soldiers, at any level, in a war zone."
"United States law provides a civil damages remedy for aliens who are tortured by their own governments," Judge Hamilton wrote. "It would be startling and unprecedented to conclude that the United States would not provide such a remedy to its own citizens."
---