Strauss-Kahn case: why prosecutors want to drop all charges
The district attorney's office told the accuser of Dominique Strauss-Kahn Monday that she had lied too many times in the past. Prosecutors will seek to drop the case Tuesday.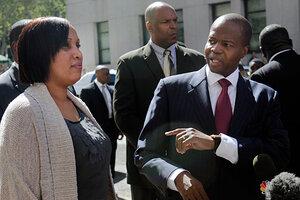 Seth Wenig/AP
Dominque Strauss-Kahn will soon be able to say au revoir to Manhattan.
After being arrested at JFK International on May 14 for an alleged sexual attack, sent to Rikers Island for detention, and released from jail only after posting a $1 million cash bail, the former head of the International Monetary Fund could be free as soon as Tuesday to pack his bags and head back to the airport.
On Monday, district attorney Cyrus Vance Jr. told Nafissatou Diallo, a maid at the Hotel Sofitel when the alleged attack against her took place, that he intends to ask the court to dismiss all charges against Mr. Strauss-Kahn.
The main reason, expected to be spelled out in detail during a court hearing Tuesday, is Ms. Diallo's credibility as a witness. A Guinean immigrant, she apparently lied on her request for US asylum and made other claims that later turned out to be false. In addition, even before Mr. Vance had decided whether to pursue the criminal case, her lawyer filed a civil lawsuit against Strauss-Kahn. Moreover, Diallo has made television appearances to explain her allegations – something most prosecutors would discourage before a case goes to court.
"I've never heard of a rape victim making a public statement or filing a civil action that early in the process," says Annemarie McAvoy, a former federal prosecutor and a professor at Fordham University Law School in New York. "The bottom line – and I hate to think this – is that they [Diallo and her lawyer] were looking for money. They wanted to put pressure on the DA's office to keep the criminal case going, and I think it backfired."
---