Alabama-lite? US sues to block South Carolina illegal immigration law.
As in Arizona and Alabama, the Justice Department wants to stop an anti-illegal-immigration law from taking effect – this time in South Carolina. The stable of states challenging federal immigration authority is growing.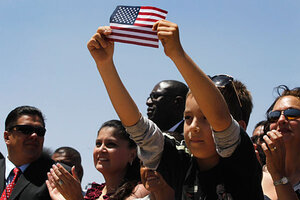 Charles Dharapak/AP
The Obama administration is taking South Carolina to federal court over an immigration bill the state passed in June.
The South Carolina bill is the latest attempt by a state to take on immigration reform directly. Supporters of the South Carolina law say the Obama administration is not doing enough to enforce immigration law and keep undocumented immigrants from entering the US illegally.
"This state can no longer afford those who don't come here the right way and we are now going to do something about it," said South Carolina Governor Nikki Haley (R) in a statement released the day of the bill signing.
The bill, scheduled to become law Jan. 1., allows law enforcement officers to ask for proof of citizenship from people they may suspect of being undocumented. It also criminalizes harboring or transporting people known to be in the country illegally and punishes immigrants if caught without a certificate of registration.
The US Department of Justice filed its lawsuit Monday, arguing that the federal government has the "preeminent" authority in immigration reform and that the rigidity of the South Carolina law "will cause the detention and harassment of authorized visitors, immigrants, and citizens who do not have or carry identification documents specified by the statute."
The government is asking a federal judge to temporarily block the law so that it can be argued in court.
---