Supreme Court agrees to settle fight over Obama health-care law
The Obama health-care law hangs in the balance, as the Supreme Court opts to hear challenges to its constitutionality. But the case is also about the power of Congress and the role of Supreme Court precedent.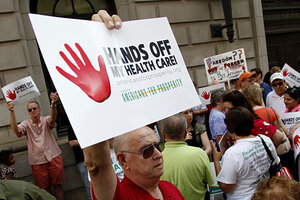 John Bazemore/AP/File
The US Supreme Court on Monday agreed to examine the constitutionality of President Obama's health-care reform law, wading into a controversy that has divided political leaders, lawmakers, and much of the nation.
In an unusual move, the justices scheduled 5-1/2 hours for oral argument to cover four distinct issues, including the controversial individual mandate and whether the law is a valid tax and thus immune from challenge under the Anti-Injunction Act.
It is hard to overstate the potential significance of a high-court ruling addressing the underlying legal issues. The fate of the Affordable Care Act (ACA) – the president's biggest legislative achievement – hangs in the balance, and it is doing so in a presidential election year.
But the case, ultimately, is about something more fundamental. It is about congressional power and the extent to which the text of the Constitution and the Supreme Court's own precedents limit or amplify that power.
It is also about the role of the Supreme Court itself, and whether the high court under the leadership of Chief Justice John Roberts will seek to recalibrate the balance of federal and state power.
Since the New Deal, the Supreme Court has embraced an expansive view of congressional authority, with a few notable exceptions. The big question in the ACA litigation is whether the high court will focus on the few exceptions and overturn the health-care reform law, or whether the court will continue to endorse wide-ranging congressional power.
Either way, the decision will be a landmark.
Can the government make you buy health insurance?
At the center of the storm is a provision that requires all Americans to purchase a government-approved level of health insurance or pay a penalty.
---