Health-care challenge at US Supreme Court: Justices seek way past Day 1 hurdle
Health-care reform proponents and detractors were on the same side Monday at the US Supreme Court, advocating that the justices move on to the constitutional issue on Tuesday.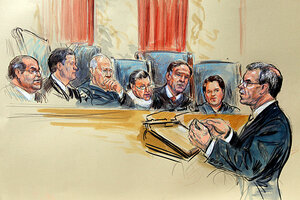 Dana Verkouteren/AP
It is the issue no one wanted to argue.
The US Supreme Court is poised to begin examining the constitutionality of President Obama's health-care reform law first thing Tuesday morning. But before that could happen, the high court sought Monday to address a legal issue that could derail the entire looming constitutional showdown.
At issue is whether the lawsuit filed by 26 states, a business group, and two small business owners seeking to overturn the Patient Protection and Affordable Care Act must be thrown out of court under a law called the Anti-Injunction Act (AIA).
The AIA requires the dismissal of any lawsuit that seeks to restrain the assessment or collection of a tax. Instead, such lawsuits challenging any tax or assessment must be filed after the tax or assessment has been paid.
This AIA requirement would undercut the current challenge to the health-care law because the so-called individual mandate will not be enforced until 2014. Since the mandate is not yet in effect, no one has paid any penalty, and, therefore, no one can seek a refund – yet.
Those challenging the reform law say they are not challenging the penalty, rather they are challenging the constitutionality of the government mandate that all Americans must purchase an approved level of health-care insurance or pay a penalty.
Before that argument could be made, the lawyers first had to address the Anti-Injunction Act issues.
What was unusual Monday is that both the government and lawyers for the states argued that the Anti-Injunction Act does not apply to this case. Both are urging the high court to quickly dismiss the AIA claim and move on to the broader aspects of the litigation.
---