Trayvon Martin family seeks federal review of Florida prosecutors
The family of slain teenager Trayvon Martin want to know why a state prosecutor apparently refused the request of a local investigator to issue an arrest warrant for George Zimmerman.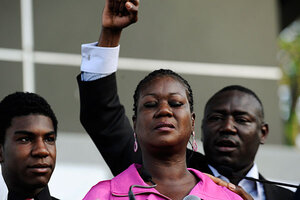 Brian Blanco/REUTERS
Lawyers for the family of slain teenager Trayvon Martin have requested that the US Justice Department review why a Florida state prosecutor apparently rebuffed a police investigator who wanted to arrest the man who shot Trayvon.
The request Monday is the latest twist in a case that has sparked nationwide outcries about the judicial system.
To many Americans, the failure to arrest George Zimmerman, the neighborhood watch captain who became suspicious of Trayvon as the black teenager walked home from buying candy, makes the case an example of racial injustice.
An alleged altercation between the two men on the night of Feb. 26 ended with Mr. Zimmerman pulling the trigger on a handgun he carried and in Trayvon's death. According to news reports, including one by The Miami Herald, police investigators requested an arrest warrant from the state attorney's office, but state prosecutors chose to wait for further review of the case.
According to a CNN news report, the initial police report from the incident listed alleged offenses as "homicide/negligent" and "manslaughter/unnecessary killing to prevent unlawful act."
---