Trayvon Martin case: Inquiry into Stand Your Ground law launched in Florida
Florida lawmakers opposed to Stand Your Ground have formed a task force to investigate the law following the killing of Trayvon Martin. Among its members: prosecutors, judges, and tourism officials.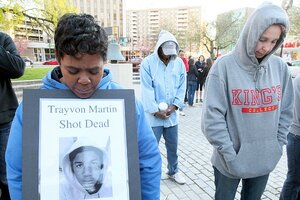 Kristen Mullen/The Citizens' Voice/AP
The shooting of black teenager Trayvon Martin by neighborhood watch volunteer George Zimmerman may or may not be explicitly or legally connected to Florida's controversial Stand Your Ground law, which allows citizens to use deadly force rather than retreat in the face of a potentially life-threatening encounter.
That depends on whether Mr. Zimmerman is prosecuted for the Feb. 26 shooting in Sanford, Fla. – he has yet to be charged – and how his attorneys might frame a defense.
But the case already has raised questions about Stand Your Ground laws now in force in some two dozen states and under consideration in others.
And on Thursday in Ft. Lauderdale, Florida lawmakers convened a task force to investigate the state's first-in-the-nation Stand Your Ground law. Task force members include prosecutors, law enforcement officials, public defenders, judges, law professors, and state tourism officials.
The effort is led by state Sen. Chris Smith, a Democrat representing Fort Lauderdale. Sen. Smith opposed the 2005 legislation, and he faults Gov. Rick Scott (R) for not acting sooner in reexamining a law that has seen a tripling of instances in which justifiable homicide is successfully used as a defense in shooting cases.
Governor Scott says he will convene a task force once special prosecutor Angela Corey of the State Attorney's office completes her investigation of the shooting and the police response.
---