Trayvon Martin case: Online fund for George Zimmerman now being tapped
Some $50,000 from an online defense fund for suspect George Zimmerman has been tapped to cover his living expenses and security, pending trial. He pleaded not guilty this week to second-degree murder in the shooting death of Trayvon Martin.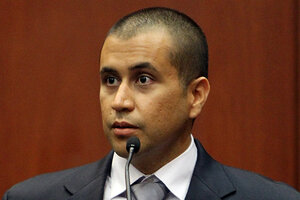 Gary W. Green/Orlando Sentinel/AP
Online donations to George Zimmerman, the neighborhood watch captain charged in the shooting death of unarmed teenager Trayvon Martin, are being used to help pay for Mr. Zimmerman's living expenses, security, and defense counsel – a development that the defendant's lawyer this week acknowledged is somewhat "controversial."
Earlier in the case, Zimmerman's attorney, Mark O'Mara, had characterized his client as indigent, noting that his family has "limited means" and that Zimmerman himself can no longer work amid concerns about his safety stemming from the highly charged atmosphere surrounding Trayvon's death.
But this week Mr. O'Mara acknowledged that Internet donations will allow Zimmerman to draw $50,000 between now and his trial for second-degree murder. Zimmerman, who is out of jail on a $150,000 bond, pleaded not guilty on Wednesday, ahead of an Aug. 8 court hearing. He is in hiding and his whereabouts are not publicly known.
O'Mara, a criminal defense lawyer from central Florida, also indicated that money pouring in from Zimmerman supporters means he himself will be paid for at least some of his work, after originally agreeing to take on the defense as a pro bono case. According to a new website, more upscale than Zimmerman's original "The Real George Zimmerman" site, support for Zimmerman has been "warm," with donations ranging from $10 to $500 per person.
But O'Mara also acknowledged that using social media to raise money for defense and living expenses is a "controversial" step that challenges legal traditions.
---