US prison inmates returning to society: How will they be received?
States, eager to save money and adopt alternatives to incarceration, release inmates in record numbers. Is society ready for the surge?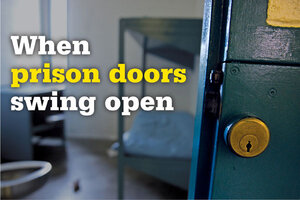 Alfredo Sosa / The Christian Science Monitor
Jason Corralez donned a freshly pressed collared shirt. He had shaved neatly around his salt-and-pepper goatee. He looked like a man about to go on a job interview, which he was. It was a job he desperately wanted, but one question gnawed at him: Would they be willing to hire a convicted murderer?
Mr. Corralez had one advantage as he applied for the position at Trader Joe's in the Westwood neighborhood of Los Angeles. Both his brother-in-law and nephew worked at the grocery store. But as his wife drove him to the interview, Corralez was worried about that question on the application that asked if he had ever been convicted of a felony. He had written: "Will discuss during interview."
When he arrived at the store, the manager queried him about his résumé. Corralez went through his work experience, which all happened to be from his time in prison, where he had been since he was 17: upholstery work, yard maintenance, small engine repair, clerical tasks. "I explained my job experience," he says. "All the courses I took – anger management, morals and values."
Corralez didn't leave out why he went to prison, either. "I'm an ex-felon for the offense of second-degree murder," he told the manager. A former member of The Mob Crew, an East Los Angeles gang, he served 24 years for killing a member of the rival MS-13 gang in a drive-by shooting. "This is the person I was," he said, "and this is the person I am now."
According to Corralez, the manager stepped back, stunned. "Thank you for being honest," Corralez recalls him saying. As the ex-prisoner walked to the bus stop, he knew what it meant. "I took everything that I had accomplished, everything that I had to do to get a second chance," he says. "But I could see it in his reaction. It was like the nail in the coffin."
---