Why the John Edwards prosecution went down in flames
At the outset, the government's election-fraud case against John Edwards appeared open and shut. But vague laws, a shaky star witness, and political overtones all undercut the prosecution.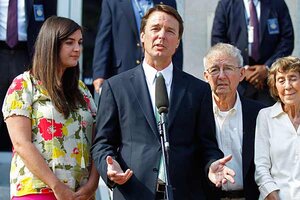 Chuck Burton/AP
At one point, the government's case against John Edwards seemed open and shut: The disgraced former presidential candidate must surely be guilty of something for using a wealthy donor's six-figure checks to hide a mistress and a love child during the 2008 presidential campaign.
This week, a jury decided just the opposite, concluding in interviews after deadlocking on most of the charges that "the evidence wasn't there" to convict Mr. Edwards, a former senator and once-favored Democratic presidential candidate, on six counts of election fraud. The jury returned a not guilty verdict on the key charge and deadlocked on the other five.
While the Department of Justice's Public Integrity Section, which helped prosecute the Edwards case along with a team of North Carolina lawyers, wins far more cases than it loses (it has 161 guilty verdicts since 2009, mostly for bribe-taking), the collapse of the Edwards case hits particularly hard, in part because of the questions now being raised about why the government brought what some legal analysts say was "a lousy case" in the first place.
"I think it's a very difficult area in the law, and there was just so much background noise in this case, such difficult witness issues, that it's frankly not surprising to me that this is where they ended up," says Peter Zeidenberg, a former Public Integrity Section prosecutor who now works for white-collar defendants in Washington. Given that, "I think that they obviously miscalculated the strength of this case."
---