Zimmerman's wife charged: What does it mean for his defense?
George Zimmerman's wife was charged with perjury Tuesday for lying to a judge. Now Zimmerman's defense team in the Trayvon Martin murder case will have to put her arrest into perspective.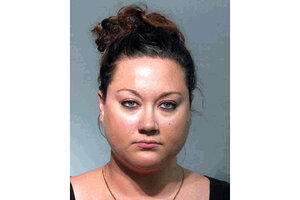 Seminole County Sheriff's Office/AP
George Zimmerman's defense team has a new, difficult challenge as it prepares for trial in the Trayvon Martin murder case: how to explain an alleged conspiracy involving the defendant's wife, Shellie Zimmerman, and the couple's attempt to keep secret a massive cache of donated funds?
Ms. Zimmerman posted bond on Tuesday after being charged with one count of perjury for allegedly lying to Florida Circuit Judge Kenneth Lester on April 20 when she claimed poverty, even as the couple was communicating by phone about moving more than $130,000 in donated defense funds between various bank accounts.
Ms. Zimmerman's arrest came two weeks after Judge Lester revoked Mr. Zimmerman's bond and sent him back to jail for failing to "properly respect the law [and] the integrity of the judicial process" and for sitting "like a potted plant" while leading "the court down the primrose path" with "material falsehoods" about his finances.
The case against Mr. Zimmerman comes down to credibility, as he appears to be the only solid witness to the events of Feb. 26, when he shot and killed unarmed teenager Trayvon Martin, in a case that sparked a national debate about racial profiling and gun rights.
Ms. Zimmerman's arrest and Mr. Zimmerman's revoked bond came after a trove of evidence – including medical evidence and eyewitness accounts – that seemed to support Mr. Zimmerman's claim of self-defense: that Trayvon attacked him with a ferocity that made Zimmerman fear for his life.
Given that Mr. Zimmerman has now angered the judge, raised the ire of prosecutors, and created new questions in the public – and a potential jury pool – about his credibility, his defense team, led by Orlando attorney Mark O'Mara, will face a fresh and difficult struggle to separate the facts of the case from the defendant's foibles, legal experts say.
---