Questions about chief justice's health-care ruling could have lasting impact
Speculation persists over why Chief Justice John Roberts joined liberals to uphold the President Obama's signature health-care reform law, and that could affect the Supreme Court.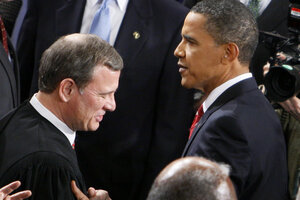 Charles Dharapak/AP/File
Unprecedented leaks of behind-the-scenes information at the US Supreme Court are raising questions about whether the threat of political attacks and other potential criticism played a role in the high court's recent decision to uphold President Obama's health-care reform law.
The most detailed leaks came in a CBS News report over the weekend, suggesting that Chief Justice John Roberts may have switched sides in the high-profile case in part to insulate the court and his own legacy as chief justice from election-year criticism should the court strike down the massive reform law.
President Obama and Senate Judiciary Committee Chairman Patrick Leahy (D) of Vermont, among others, made statements after oral arguments in the case suggesting that any decision overturning the health-care law would be the illegitimate work of conservative judicial activists on the Supreme Court.
The warning was clear: The Supreme Court and the justices themselves were about to become fair game in the president's campaign for reelection.
Now, a week after the Supreme Court announced its opinion upholding the health-care law, Justice Roberts is being accused of having caved in to threats of political pressure.
The problem with such accusations is that they are difficult to prove – or disprove. Even worse, if the perception spreads that the chief justice is susceptible to outside pressure, the court will likely come under even more pressure and criticism in future cases – even if the perception is untrue.
Liberal columnists who favor the health-care law are praising Roberts for supposedly rising above conservative politics to give the case fair adjudication. The chief justice exemplified a kind of noble leadership, intent on keeping the court above any taint of politics, they suggest.
---