Massachusetts health-care reform tests impact of employer 'tax' on jobs
After six years of reform, Massachusetts has the highest rate of health-care coverage in the US, but effects of its 'tax penalty' on employers are less clear. Some fear penalties are hamstringing job creation.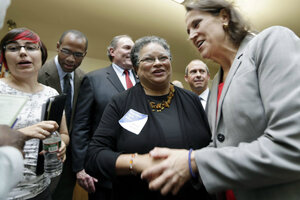 Elise Amendola/AP
The US Supreme Court calls it a tax. The Obama administration says it's a penalty. In Massachusetts, where health-care mandates have been in effect for six years, they call the money a person pays for not having health insurance a "tax penalty." As far as small-business owners like Diane Giblin are concerned, it doesn't make a difference one way or another.
"To me it's the same no matter what you want to call it. It's just another way to get into my pocket," says Ms. Giblin, co-owner of a nine-employee metal fabrication company located just south of Boston. "Whether it's a tax or a penalty, it's the cost that you have to pay, it's the money you to have to pay out."
But with the Supreme Court's historic ruling last week upholding the federal health-care reform law, the Massachusetts program faces increased scrutiny for how its plan, especially the mandate for small businesses, has played out in practice.
The upside of the Bay State's pioneering reform is clear: The state now has the country's highest rate of people with health insurance, due in no small part to the requirement that businesses over a certain size help provide it. The downside is less clear: the longer-term impact on business hiring and employment.
Under the 2006 law, Massachusetts businesses with more than 11 employees or their equivalent must offer a "fair and reasonable contribution" toward coverage or pay the state a "Fair Share Assessment" of $295 per full-time employee. The law also requires businesses to help employees pay for premiums using pretax dollars.
---